TSTC in Waco Hosts Industry Job Fair for Students
October 18, 2018
(WACO) – More than 850 Texas State Technical College students met potential employers from throughout Texas on Thursday at its Industry Job Fair.
Students were lining up to register about an hour before the 9 a.m. start of the event at the Murray Watson Jr. Student Recreation Center. Inside, students were treated to more than 100 companies looking to fill jobs for computer-aided drafters and designers, industrial maintenance technicians, aircraft mechanics and other technically skilled positions.
KEI Medical imaging Services of Hutto was appearing at its first TSTC job event. Gordon Schoppe, the company's president, was on the hunt for Biomedical Equipment Technology majors. He said the kind of job candidates he likes are those who enjoy doing something different daily and long workdays.
The company provides parts and servicing on specific brands of MRI machines and CT scanners, along with inspections and insurance consultations. Schoppe said the business has about 10 employees.
SpawGlass, which has nine offices in Texas, was also making its first visit to TSTC in Waco. Lloyd Faver, a project executive at the construction company's Fort Worth office, said he was looking for students interested in 3D design and all facets of building construction.
"I feel like the students at TSTC have more hands-on experience," Faver said.
Some TSTC alumni worked at information tables, ready to talk to students about their professions.
Zachary McLeskey, a junior assistant superintendent at Galaxy Builders Ltd. in San Antonio, graduated in December 2017 with an Associate of Applied Science degree in Building Construction Technology.
McLeskey learned about the company at a TSTC Industry Job Fair. He began work at the construction company in January.
His advice to students was simple.
"Maturity goes a long way in connecting with employers and clients," McLeskey said.
Students asked questions, clutched company brochures and handed out resumes to company representatives.
Isaac Mendez, 18, of Mexia is in his first semester in the Diesel Equipment Technology program. He attended the job event to see what it was like.
"I learned what companies are looking for," Mendez said. "Having the job fair shows students that TSTC is a good college to come to."
Andrew Betts, 19, a fourth-semester Welding Technology major attending TSTC in Williamson County, traveled with a small group of students and a staff member to the job fair. Betts, from the Brushy Creek area of Williamson County, was interested in welding jobs.
"I get an idea of what companies are looking for and job opportunities," Betts said. "I can ask about benefits and pay and what the real world looks like."
For more information on Texas State Technical College, go to tstc.edu.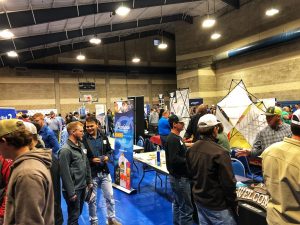 TSTC Instructor Travels to Croatia for Culinary Trip
October 17, 2018
(WACO) – Texas State Technical College's Chef Mark Schneider returned earlier this month from Croatia as part of an Epicurean World Master Chefs Society culinary cultural exchange.
He could not help but be entranced by the sight in front of him at a Texas cooking lesson he was part of in Vrsar, Croatia. Schneider, director of decision support in the TSTC Culinary Arts program, was as amazed at the attendees' interest in fish tacos as he was with the architecture and mountains shining in the daylight.
"They loved it," Schneider said. "The fish was amazing."
During that lesson, Schneider also taught people about using cantaloupe, jicama and pomegranate in slaw, as well as how to make pork carnitas empanadas, pickled red onions, tomatillo verde and tortilla chips.
Schneider said the 11-member delegation of American chefs cooked each day of the weeklong trip, except for a professional education day to learn about Croatian cuisine. As part of that day, Schneider enjoyed a white truffle-themed lunch at Konoba Mondo in Motovun in the Istria region of Croatia.
"They shaved them (the truffles) like parmesan," he said. "The truffles were phenomenal. It was mind-shattering."
The education day also included lessons on mussel and oyster packaging and a wine tasting at an area vineyard.
The trip's highlight was an evening dinner for Vrsar dignitaries and residents. After the meal, the chefs celebrated and ate pizza they made at a nearby restaurant.
Schneider said he could sense the Italian influences in the cities he visited because of the Istria region's proximity to Italy.
"The food we had was simple but incredible," Schneider said. "I came back with new ideas and techniques."
Chef Michele Brown, lead instructor in the Culinary Arts program, said the trip will have a long-lasting impact on Schneider's career.
"A cultural exchange trip such as one that Chef Schneider went on is truly enriching and life-changing," she said. "It opens up another level of dedication to the craft."
TSTC's Culinary Arts program has a student-operated restaurant at the Greta W. Watson Culinary Arts Center on Campus Drive in Waco. The restaurant is open to the public, and meals are served from 11 a.m. to 12:30 p.m. on select Wednesdays and Fridays each semester. For more information, go to tstc.edu/about/culinarydiningwaco.
For more information on Texas State Technical College, go to tstc.edu.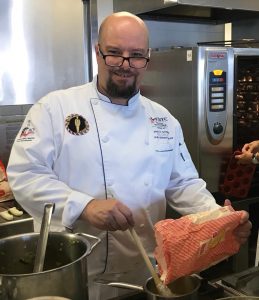 Mother-daughter duo finds success at TSTC
October 15, 2018
(HARLINGEN) – Missy and Micah Valdez, mother and daughter, are a duo to be reckoned with. Both are students at Texas State Technical College who hold each other to high standards and have high hopes for each other's success.
The journey to TSTC began untraditionally for Missy. She had been in the banking business for three decades and risen to senior bank manager and vice president at a local bank before being laid off in 2017.
"I dedicated nearly 22 years of my career to (that) place, and just like that I lost my job," said Missy. "It's been a difficult transition. But I'm ready for a career change, and TSTC has been there for me."
Wasting no time, Missy used the tuition assistance that was included in her severance package to enroll in the Health Information Technology program at TSTC in Harlingen.
But transitioning from a high-level position and six-figure salary to student life was no easy feat.
"I'm 49 and hadn't been in a classroom since high school, so it was intimidating," said Missy. "I'm definitely one of (the oldest), if not the oldest, in class."
Missy got her dream job as a bank teller straight out of high school and said because of that she never pursued a college education.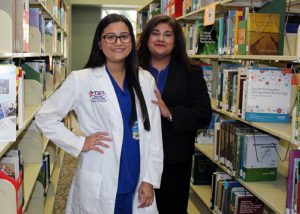 But despite her fears and the challenges she faces as a full-time student, wife and mother, Missy has maintained a 3.9 grade-point average and earned spots on the vice chancellor's and dean's lists.
"None of this would be possible without the support of my children and husband," said Missy. "They have been nothing but encouraging and understanding."
Missy expects to graduate from Health Information Technology with an associate degree in Spring 2019 and will return to TSTC to apply for the vocational nursing and registered nursing programs.
"I am so proud of my mom and everything she has accomplished," said Micah. "She's a go-getter and an inspiration. To watch her get an education to better herself has been a great journey, and I'm glad we get to do college together."
The 22-year-old is enrolled in Surgical Technology and hopes to graduate with her associate degree in Summer 2019.
She and her mother were no strangers to TSTC before they enrolled.
When Micah was in high school, her father underwent open-heart surgery, and she recalls being mesmerized by the staff who nursed him back to health. Eventually she received a nursing assistant certificate from TSTC as a dual-enrollment student at Harlingen South High School.
"I've always been interested in the medical field, but I really began pursuing a career in it after my father became ill," she said. "I want to be to others what my dad's medical staff was for him and our family, and TSTC allows me to do this close to home."
The Harlingen native and her father are like two peas in pod. "We do everything together," said Micah.
Micah recently began her clinicals at Valley Baptist Medical Center and said she is excited to begin the journey of patient care.
"TSTC provides the perfect space. We have fully functional operating rooms equipped with a mannequin, lights, and all of the tools and instruments we'll be working with in industry," said Micah. "For me, this makes learning easy and fun."
Micah hopes one day to become a surgical nurse.
She said having her mom on campus as a peer has made her experience even better.
"I'm happy to have her on campus. I told all of my friends right away about her coming to TSTC," said Micah. "We see each other around campus sometimes, and we even study together at home. We help each other out."
Both women agree that they admire their instructors' knowledge and experience and enjoy the hands-on training TSTC provides because they know it will help them become the best in their professions.
The one thing they wish they could change: not graduating together.
"It would be great if we were graduating the same semester. That would be a grand celebration. But at least we only have to purchase one cap and gown," Missy said with a laugh.
For more information on Surgical Technology or Health Information Technology, visit tstc.edu.
TSTC hosts annual Rio Grande Valley Counselor Update
October 15, 2018
(HARLINGEN) – Diana Alejos went from exhibit to exhibit, speaking with faculty and learning about the more than 30 technical programs offered at Texas State Technical College in Harlingen, during the college's annual Counselor Update hosted at the TSTC Wellness and Sports Center.
"I enjoyed this event very much. Many of my colleagues agree that this was the best one yet," said Alejos, migrant counselor at J. Economedes High School in Edinburg.
Alejos was one of nearly 50 counselors from across the Rio Grande Valley who attended this year's update.
"The event was an absolute success," said Erica Gonzalez, TSTC coordinator of Student Recruitment. "This event is one of the largest we host to ensure that counselors have the latest information they need about TSTC to pass along to their students."
Gonzalez said changes were made this year to give counselors access to more information and update them on recruitment and enrollment processes, dual enrollment and student learning.
In the past, the update has consisted of a campus tour and an in-depth look into at least three or four technical programs. But this year, TSTC created a program showcase, giving counselors access to every program on campus and the opportunity to speak with faculty from every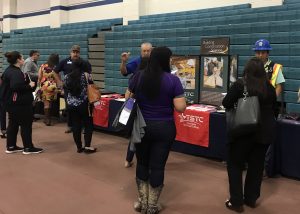 program.
Gonzalez said the changes to this year's event were met with positive feedback.
"It was refreshing to see the new setup," said Alejos. "To have every program in one place was an upgrade. It really gave my colleagues and me an in-depth look into the programs TSTC offers, compared to only visiting a few."
"It is my goal to get all of the information I can to better serve our migrant population. I definitely gained a lot by attending this update and have a lot of information to pass along to our students," she added.
Counselors were treated to a breakfast and lunch catered by TSTC's Culinary Arts students; a message from the keynote speaker, local attorney and TSTC alumna Krista Guiter, who discussed her experience at TSTC and spoke about empowering young girls to get a higher education; and presentations from three TSTC students: Bianca Moreno, Juanita Salinas and Carlos Obregon.
Obregon received an associate degree in Computer Maintenance Technology in 2016. He is pursuing a second associate degree in Health Information Technology and works as a community assistant for TSTC Housing.
He said he enjoyed sharing his TSTC experience with counselors and hopes that his words made an impact and can help other students.
"I hope counselors will be inspired to tell their students about my experience, especially as a migrant student. Education is not always first on our priority list," said Obregon.
"I also had a great migrant counselor in high school who pushed me and motivated me to continue my education. Without her, I wouldn't be here. And because she was at the event, I got a chance to thank her personally," he added.
That counselor is Alejos.
"Seeing Carlos, hearing his story and learning about everything he has accomplished at TSTC was a highlight for me and very unexpected," said Alejos. "And it was especially touching when he thanked me for my time as his counselor."
Gonzalez said she hopes to maintain the new event format for future Counselor Updates, which are hosted statewide among TSTC's 10 campuses.
"Our core values at TSTC are excellence, integrity, accountability and service, and the Counselor Update is a great place to model who we are," said Gonzalez. "We want them to know that at TSTC we go above and beyond for our students, and their success is our top priority."
To learn more about TSTC and the technical programs offered, visit tstc.edu.
Student Success Profile – Amanda Perez
October 15, 2018
(HARLINGEN) –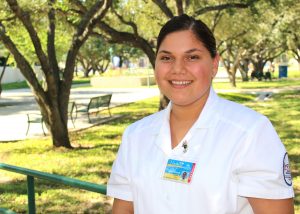 Amanda Perez is a Vocational Nursing student at Texas State Technical College. The Los Fresnos native holds a 3.1 grade-point average and expects to graduate with her certificate in Summer 2019.
The 21-year-old is an active member of the Vocational Nursing Club, where she serves as parliamentarian. She also works as a nursing assistant at a Brownsville nursing home.
What are your plans after graduation?
After I graduate I plan on working for one year to gain experience and then return to TSTC to pursue an associate degree in registered nursing.
What's your dream job?
My dream job is to become a pediatric nurse. The children are our future, and I want to help keep them healthy or nurse them back to health when they're sick. I feel like I can make a positive impact in this area.
What has been your greatest accomplishment while at TSTC?
My greatest accomplishment at TSTC was graduating with my certificate from the nursing assistant program and gaining employment immediately. TSTC, in a nutshell, has given me the opportunity of continual growth.
What greatest lesson have you learned about yourself or life?
The greatest lesson I have learned about myself is that I can achieve anything I set my mind to. I've learned to have more faith in myself and my skills. The nursing assistant and the vocational nursing programs have really helped me discover and unlock my potential.
Who at TSTC has had the greatest influence on your success?
My nursing assistant and vocational nursing instructor, Emily Gonzalez, has had the most influence on my success. She has always encouraged me to keep going when life gets too hard and has motivated me to get involved with our program clubs and get out of my comfort zone.
What is your advice for future TSTC students?
Study, study and study. Learn as much as you can; TSTC gives you that opportunity. Also, don't be afraid to ask questions; that's the only way to learn new things.