New TSTC Welding Technology Program Poised to Get Students to Work
August 15, 2018
(ABILENE) – The first group of Welding Technology students walking into the Industrial Technology Center at Texas State Technical College later this month will be in for a pleasant surprise.
The new building next to Abilene Regional Airport will have state-of-the-art equipment for automated welding and metallurgy, said Ashley Yezak, TSTC's statewide department chair for Welding Technology. The building will open Monday, Aug. 27, for the start of the fall semester.
"Metallurgy students go to work with engineering companies or for companies with engineering departments," said Yezak. "They can develop new welding procedures."
The automated welding equipment is the first of its kind among TSTC's four West Texas campuses.
Yezak said the kind of students who succeed in welding are those who are comfortable working with their hands or have relatives involved in the welding field.
Area employers are seeking welding graduates with such experience.
Mike Petty, owner of West Techs Chill Water Specialists in Abilene and a 1986 Welding Technology graduate of Texas State Technical Institute (now TSTC) in Waco, said job candidates for basic welding are readily available but those who do fitter welding are a challenge to find.
"They have to know a little trigonometry and understand how to measure and cut pipe on angles," said Petty. "It's more than just welding the pipe together."
Petty said the oil and gas industry can determine the job candidate pool.
"West Texas has a lot of welders because of the oil and gas field," he said. "The problem is when the oil prices go up, we have a shortage of welders, and when the prices go down, we have a surplus of welders. It all hinges on that oil price."
Jeremy Bartz, human resources director at Hirschfeld Industries in San Angelo, said he has recruited Welding Technology graduates in the past from TSTC. The company has a fabrication plant in Abilene.
Bartz said a majority of the company's work on large industrial, nuclear and structural projects throughout the world is wire welding.
"We can bring in three and four at a time to train," he said. "We have to have experienced welders to go in and go to work. If we train somebody, we want them to come to work for us."
Texas State Technical College will offer the Associate of Applied Science degree in Welding Technology starting this fall in Abilene. Yezak said having the associate degree available gives certificate students at TSTC's Breckenridge, Brownwood and Sweetwater campuses the option to continue their welding education.
Students can also earn certificates in structural welding or structural and pipe welding for the first time this fall in Abilene.
Yezak said Abilene's welding programs can open up opportunities for high school students seeking dual credit and for prospective students in rural areas.
Besides the Welding Technology program, the Industrial Technology Center will house new programs in Industrial Maintenance and Electrical Power and Controls and will be the new location for the Emergency Medical Services program.
For more information on Texas State Technical College, go to tstc.edu.
TSTC Cyber Security Student Graduates to New Career
August 14, 2018
(HARLINGEN) – Rogelio Garcia is a small-town guy from Roma, Texas, but has accomplished big dreams at Texas State Technical College in Fort Bend County and will graduate with his associate degree in Cyber Security Technology this Thursday.
"TSTC has been a great ride," said Garcia. "I never thought I could accomplish something like this at my age."
This is a career change for the 37-year-old who spent nearly 13 years in the retail industry serving as a multi-unit manager for chains such as Kirkland's, Anna's Linens and Sears.
"Retail is all I've known since high school," he said. "I hadn't been in a college classroom since my early 20's. It was intimidating making a change."
Garcia had attempted the college and university life before TSTC. He studied Criminal Justice at a Rio Grande Valley community college and a university in San Antonio, but neither was the right fit.
"In the long run I realized criminal justice was not what I wanted to do for the rest of my life," said Garcia. "I couldn't find anything I was passionate about, until now."
With the instability and hectic schedules that come with working retail, Garcia, with the support of his wife of 14 years, quit his job and they moved to Houston in hopes of finding better opportunities.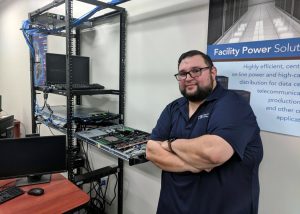 "We always heard from others that Houston has tons of opportunities and work available, so we decided to make the move," he said. "And it was perfect timing with the opening of the TSTC campus in our area."
Garcia said he did not know what he was getting himself into; he had no idea what cyber security was about. The only computer experience he had was with point-of-sale systems and online shopping.
Disregarding his insecurity about the program, Garcia enrolled in January 2017 and since then has found success as a student and student leader on campus.
"Yes, there were moments I felt like giving up," he said. "Moments I wondered what I was doing. It was a risk, but a risk worth taking."
Garcia credits his Cyber Security Technology Instructor Ryan Hill for the reason why he did not quit school this time around.
"Mr. Hill was my guidance and saved me when I was ready to quit," said Garcia. "He was the first person I saw on my first day and the one that mentored me along the way. He's a great asset to TSTC and overall a great person. He believes in me and believes that I can do great things."
Hill described Garcia as a great joy to have in class, a pleasure to work with, and one of the most dedicated students he's seen.
"As a dedicated student and leader, he was always the first to arrive and the last to leave," said Hill. "It is his dedication and earnest involvement on campus and in the community that will allow him to graduate with distinction. It is this drive, determination and ability that will make him a valued asset at any company he chooses."
Garcia will graduate with a 3.9 grade-point average, with honors and memories he said he will cherish and miss.
Along with adjusting to student life and studying to maintain his impressive GPA, Garcia also served as TSTC in Fort Bend County's Student Government Association president, where he recently led a school supply drive and benefit and was one of the first inductees into the campuses newly established honor society, Phi Theta Kappa Honor Society, where he served as vice president.
Garcia also worked on campus as a Student Ambassador and New Student Orientation volunteer conducting campus tours and welcoming new and prospective students on campus.
"Being active on campus gave me a whole new outlook on college and improved my experience," said Garcia. "It allowed me to meet new people, make new friends, make a difference in the community, and make college memorable. I've enjoyed every moment and I'm going to miss it."
So what's next for Garcia?
He already has a few job offers on the table that he is reviewing. He ultimately hopes to work as a network administrator and Garcia is looking forward to celebrating this accomplishment with his wife, parents and in-laws on Thursday and can't wait to put on his cap and gown and walk across the commencement stage.
TSTC in Fort Bend County's Commencement Ceremony will be held Thursday, August 16 at the Stafford Centre in Stafford, Texas at 6 p.m.
TSTC's first registered nursing graduates honored at ceremony
August 13, 2018
(HARLINGEN) – Daniel Avila recently shared with a room full of his classmates, their families and friends that he first realized he wanted to become a nurse when his son was in the neonatal intensive care unit after he was born.
"Author Mark Twain once said, 'The two most important days in your life are the day you were born, and the day you find out why,' and this is when I found my why," he said.
Now six years later, Avila found himself telling his story as the salutatorian of the first registered nursing cohort at Texas State Technical College during the program's first pinning ceremony.
"The feeling of helplessness, the fear of the unknown and seeing other families struggling in the NICU the way we were was my motivation," said Avila. "I didn't want to be clueless about my son and his care, so that's when I told my wife I'm becoming a nurse and I'm going to work in the NICU someday."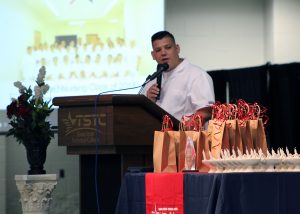 So the Avila family sold their possessions, moved in with Avila's mother-in-law, he left his job as a customer service representative with United Health Care and went back to school.
The 26-year-old and father of two first graduated with a certificate as a vocational nurse from a local community college, but found himself left out of the registered nursing program three years in a row.
"There were so many bumps in the road and this was my biggest one," he said. "I tried three times and each time was a no."
After speaking with a friend, who told him about TSTC's vocational nursing to registered nursing transition program, Avila called Shirley Byrd, the program's director, and found out he had only 24 hours to take his entrance exam and apply.
And so he did.
"I'm so honored to be a part of this first cohort," he said. "It's been a great experience being able to pave the way for future classes and I can't wait to come back and mentor students."
Avila first became a nurse to work in the NICU, but along the way he found a new passion: working with cardiac patients. He has accepted an offer at Harlingen Medical Center in the Cardiac Care Unit and will start as early as September 1, contingent on him passing the National Council Licensure Examination.
"I'm so excited for this new journey. My family has sacrificed so much, but this job makes everything worth it," said Avila. "Heart disease is prevalent in our area and with my parents growing older I want to understand the issue to help educate and advocate for my family and patients."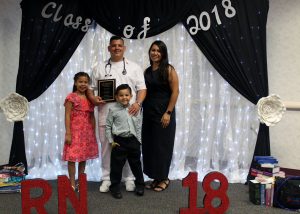 Avila is one of 29 TSTC registered nursing students who recently graduated and pinned into the profession.
The pinning ceremony is a tradition the program will follow annually and dates back thousands of years. It is a rite of passage that represents sacred healing and the commitment to caring for others and the official welcoming into the profession.
"Pinning our students is an honor and sense of accomplishment," said Byrd. "We've have good and bad times, ups and downs, but we all prevailed, they succeeded. I'm so proud of them and I'm excited to see where their futures take them."
Perfect attendance awards, registered nursing club officer awards and student leadership awards were also presented.
"I hope this ceremony has been as important to you as mine was to me," said Amy Flores, chief nursing officer at Harlingen Medical Center. "You are now reaping the reward, this pin is your gold medal. Always remember that patients are counting on you and will reap the benefit of your hard work. All patients need your caring touch, so be committed to doing it right and your mind open to learning."
For more information the vocational nursing to registered nursing transition program at TSTC, visit tstc.edu.
Student Success Profile – Megan Trevino
August 13, 2018
(HARLINGEN) –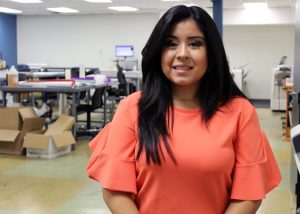 Megan Trevino is a Digital Media Design student at Texas State Technical College. The 26-year-old expects to earn her associate degree in Summer 2019.
Although busy as a work study at the TSTC Print Shop, the social media chair for the Junior League of Harlingen and media team leader at Abundant Life Church, the Harlingen native has maintained a 3.7 grade-point average.
What are your plans after graduation?
After I graduate I plan on concentrating full-time on my business "Megan Monique Designs." I already offer graphic design and marketing services to a few business owners and realtors.
What's your dream job?
My dream job is to continuing growing my business, growing my clientele and being successful in my endeavors, especially because this is my second chance, second career choice after being unable to find a job with my bachelor's and master's degrees in business administration.
What has been your greatest accomplishment while at TSTC?
My greatest accomplishment at TSTC has been maintaining my high GPA because balancing a full-time class schedule, my business, my work-study job and extracurricular activities has not been easy.
What greatest lesson have you learned about yourself or life?
The greatest lesson I have learned is that it is okay to take risks. I took a huge one coming back to school, but with the support of my family it has all been possible. I have found nothing but doors of opportunity opening in my favor.
Who at TSTC has had the greatest influence on your success?
All of my Digital Media Design instructors have influenced my success. They are always available to lend a helping hand and to share their knowledge. As experienced professionals who have also worked in the field, they have been able to advise me on my business also.
What is your advice for future TSTC students?
My advice for future TSTC students is to soak up as much information as they can, ask a lot of questions, remember that your instructors are there to help you succeed and never give up.
TSTC partners with UTRGV Veterans Upward Bound program
August 13, 2018
(HARLINGEN) – Johnny Rivera, a Computer Networking and Security Technology student at Texas State Technical College and U.S. Navy veteran, joined the Veterans Upward Bound program in Spring 2018.
Veterans Upward Bound is an organization aiding veterans in Cameron County and providing a way to level the playing field between those continuously pursuing education and veterans that serve and then return to school.
The program hosted by the University of Texas Rio Grande Valley at TSTC's Veterans Center also provides one-on-one tutoring services, equipment such as calculators and laptops, financial aid assistance and preparatory TSI tests.
Rivera described the program and his time at the Veterans Center as pleasant and accessible with many resources to meet his day-to-day tasks.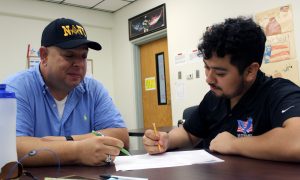 "They have thought of everything you could possibly need. It's all under one roof," he said. "I recommend the program to any veteran seeking to make the most out of their education."
Rivera, who plans to graduate Summer 2020 with an associate degree, said the program has helped him tremendously.
"Here at TSTC I'm receiving the building blocks to transfer to a four-year university for a bachelor's degree in business administration," said Rivera. "And it's the VB program that has helped me. It's so beneficial having someone guide me through the process of re-entering college."
Jose Villegas, TSTC Veterans Center program officer, said when UTRGV reached out to TSTC to establish a partnership with Veterans Upward Bound, they knew they had to accept.
"We were excited to see how it could benefit not only our students here at TSTC, but other veterans in our area," said Villegas. "Not only does the program serve TSTC students, but also veterans throughout Cameron County."
Villegas said the program is able to become more accessible now that it is at TSTC and grow in the number of veterans served  in Cameron County.
Lizette McNaine, a Veterans Upward Bound program representative, said she sees the partnership with TSTC and the program expanding in the future.
"We are aiming to increase our scope to reach more veterans," said McNaine. "We are unbiased and work with veterans no matter their college or university degree of interest."
The Veterans Upward Bound program grant began in 1999 and was recently approved for another five years.
For more information about the services offered at the TSTC Veterans Center, call 956-364-4386.