TSTC in Waco Earns Gold Medals at State SkillsUSA Postsecondary Conference
April 20, 2018
(WACO) – Cody Scheffe, 21, a student in Texas State Technical College's Building Construction Technology program, figured he would be up for the challenge.
And, he was correct.
Scheffe won the gold medal in Carpentry at the SkillsUSA Texas Postsecondary State Leadership and Skills Conference held April 5-7 at TSTC in Waco.
"Mr. (Michael) Carrillo (a TSTC Building Construction Technology instructor) started talking about SkillsUSA, and it sounded like a good opportunity," said Scheffe of Windthorst, Texas. "I opted in. I didn't believe it when my name was called."
Texas State Technical College in Waco won 24 gold medals, 15 silver medals and nine bronze medals.
"As has been the case for the past couple of years, TSTC in Waco had a very good showing, bringing home the most medals from the conference," said James Matus, TSTC's SkillsUSA manager. "I hope that momentum will carry over to nationals like it did last year for them."
While some students will return to the national competition in June, others will make their debuts.
Cici Bunting, 19, is a second-semester Culinary Arts major from La Porte who won the gold medal in Commercial Baking.
"I was very surprised," she said about winning. "Chef Gayle Van Sant had to push me out in the aisle to get my medal."
Bunting made French bread, an empty pie shell, a apple pie, decorated a premade cake and made other treats in a six-hour span. She practiced with Van Sant and Chef Paul Porras, also in TSTC's Culinary Arts program, to improve her skills.
Gabriella Romero, 20, of Red Oak placed first in Advertising Design. The Visual Communication Technology major could not attend the awards ceremony, so she received the news of her win through a group text.
"I was screaming at the top of my lungs," Romero said. "It was a shock and so unreal."
Romero worked with Visual Communication Technology instructors Stacie Buterbaugh and Jennifer Piper to perfect her design portfolio.
"They pushed me to do my hardest and helped me to get my point across to the consumer in my designs," Romero said.
Romero will be pushed even more in her skills up until the national conference because she will have to learn how to do designs on a personal computer – the Visual Communication Technology program uses Apple computers – and also how to use InDesign.
"I'm happy I get the opportunity to show people my skills," she said.
Gold medalists are eligible to compete at the SkillsUSA National Leadership and Skills Conference in late June in Louisville, Kentucky.
"I think it makes a statement about the technical college and what we can put forward," Scheffe said.
Other gold medalists from TSTC in Waco are:
Architectural Drafting: Oscar Luna
Auto Refinishing: Hector Corujo
Cabinetmaking: Timothy Watkins
Computer Programming: Jeremiah Stones
Diesel Equipment: Mark Schimank
Collision Repair Technology: Juan Alcala
Electrical Construction Wiring: Dykota Smith
Information Technology Services: Cameron Westerfield
Interactive Application and Video Game Creation: Dylan Borg and Travis Pitrucha
Job Skill Demonstration Open: Jondaria Maxey
Pin Design: David Ijegbulem
Plumbing: Jude Gonzales
Related Technical Math: Vicky Lackey
Residential Systems Installation and Maintenance: Rickie Hartfield
T-Shirt: David Ijegbulem
Teamworks: William Chance, Ricardo Delgado, Joseph Hermann, Andres Zapata
Technical Drafting: Larry Cipriano
For more information on SkillsUSA, go to skillsusa.org.
For more information on Texas State Technical College, go to tstc.edu.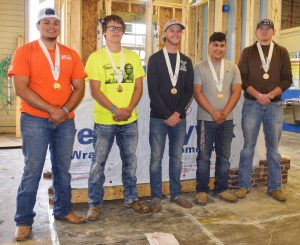 Chancellor's Excellence Award – Chris Martin
April 20, 2018
(FORT BEND) – Although Chris Martin has only been with Texas State Technical College in Fort Bend County for just over a year, he has already made a favorable impression and recently earned the 2018 Chancellor's Excellence Award.
"Before this, I was not familiar with the award or the scope of it," said Martin, business relationship manager for TSTC. "So when people started congratulating me and making a big deal, I was surprised to learn what it meant."
The Chancellor's Excellence Award is given by TSTC Chancellor Mike Reeser to select faculty and staff for their distinguished service and dedication to the college, their communities and their state.
"These teammates were nominated by their peers, recommended by their provosts and vice chancellors, and chosen as faculty and staff who model excellence in our college every day," said Reeser. "Their caring and dedicated efforts embolden us all to make a difference in the success of our teams and the lives of our students."
Born in Houston and raised in Fairfield east of Waco, Martin graduated with a bachelor's degree in economics from the University of Houston in 2000 and a master's degree in business administration from Houston Baptist University in 2015.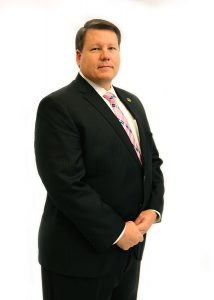 He arrived at TSTC with an extensive background and experience in economic development, real estate and health care. He first heard of TSTC while serving on the Rosenberg Development Corporation, where he still serves as president.
"One of the initiatives for the Rosenberg Development Corporation was to bring TSTC to our county," said Martin. "I was instantly impressed with the college and the services and opportunities it would offer to our area."
Martin was working as a real estate agent and owned a small business consulting group when he saw the job posting on TSTC's website.
"My passion is economic development and workforce training. I love all facets of the area," said Martin. "So I saw this as a great opportunity for me and I went for it."
As TSTC's business relationship manager in Fort Bend County, Martin establishes business relationships for the campus with the goal of securing workforce training opportunities.
Besides the work he does for TSTC, Martin maintains his real estate license, serves on the board of the local library and museum, is a committee member for the Houston Livestock Show and Rodeo, and serves as a swim meet director for his son's competitive swim team.
Loree Scott, TSTC's senior executive director for workforce training, said Martin has a servant's heart, which is an inspiration to many.
"Chris was instrumental during the tragic aftermath of Hurricane Harvey," said Scott. "He volunteered countless hours with the TSTC food pantry, located and assisted TSTC Fort Bend County families with cleanup and rescue, offered his home to our TSTC families who were displaced, and found resources such as gas in the days following the storm."
Scott added, "It is Chris' willingness to go above and beyond in everything he does that makes him so deserving of this award."
Martin said he is thankful to those who nominated him for this distinguished award and is happy to represent TSTC.
"It's humbling to know that my work is being noticed, and I feel so appreciated," he said. "Never have I received an award like this. TSTC is truly one big family, and I hope I can continue to be a part of the college's growth and live up to what this award means."
Martin will join the other 15 Chancellor's Excellence Award recipients from across TSTC's 10 campuses in May for the National Institute for Staff and Organizational Development awards dinner and celebration in Austin.
TSTC veteran student club host annual Car Show
April 19, 2018
(HARLINGEN) – The Veteran Students Alliance Club at Texas State Technical College will be hosting its Fourth Annual Car, Truck and Motorcycle Show tomorrow to raise funds for veteran student scholarships.
This is the largest fundraiser for the student-run organization that assists veterans and their families with the transition to civilian life and awards scholarships, a tradition started in 2013.
"Sometimes our veteran students come in with no benefits or not enough benefits and these scholarships help supplement what they need to attend TSTC," said Veteran Center Director Steve Guevara. "These scholarships have made the difference in many lives and have allowed veterans the chance at a new career."
Every semester, three students receive a $300 scholarship that can be used to cover tuition, books and supplies, tools or room and board.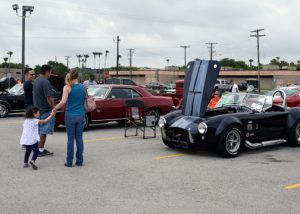 Student veterans who apply for the scholarship must have prior military service, 90 plus days, or 30 days medical discharge; be a part-time student; have a 2.0 grade-point average and complete a 300-word essay.
"The scholarships we award our veteran students act as a reminder that they are not forgotten and we are here to help them in any way we can," said TSTC Veterans Program Officer Jose Villegas.
There are three competitive categories that car, truck and motorcycle enthusiasts can sign up for to help support the cause: Best in Show, Provost Choice and People's Choice. Registration fee to enter a car is $20.
The show is free and open to the public, but to those wanting to contribute to the club's mission can purchase tickets for $1 that will count as one vote for their favorite vehicle for the People's Choice award.
Winners in all three categories will receive a framed United States flag plaque, gift cards and car care gift sets that have been donated by local restaurants and auto shops.
"All money raised from competitors, spectators and vendors goes a long way when you're helping students pursue an educational dream," said Guevara.
TSTC alumnus Frank Macias, owner of Frankie Flav'z in Harlingen, will also be joining the cause. He will have his food truck at the event with a portion of the proceeds going to the scholarship fund.
"We want to encourage our community to come out and support our students," said Villegas. "The more people we have in attendance, the bigger our event grows annually and the more students we are able to help."
Since the event's initiation, the Veteran Students Alliance Club has raised more than $3,000.
Those interested in registering a car into the competition have until 10 a.m. the day of the event, Saturday, April 21.
For more information, call the TSTC Veteran Center at 956-364-4385.
Event Information:
Saturday, April 21, 2018
10 a.m. to 2 p.m.
TSTC Student Center Parking Lot (off Oak St.)
1902 N. Loop 499 Harlingen, Texas 78550
New Industrial Maintenance Program at TSTC to Fill a Need for West Texas
April 16, 2018
(ABILENE) – Some of the most sizzling careers right now in West Texas are in the industrial maintenance field, and Texas State Technical College is poised to fill the need.
TSTC in Abilene will offer the new Associate of Applied Science degree in Industrial Maintenance – Mechanical Specialization at the Industrial Technology Center opening this fall on Loop 322 next to Abilene Regional Airport. Students will learn about electrical theory, industrial maintenance, blueprint reading, hydraulics, pneumatics and other topics in the heavily hands-on program.
Shea Hopkins, director of talent management at the Abilene Industrial Foundation, recently took a tour of the ITC.
"It was looking good," she said. "I think it's exciting to have something like this in Abilene, and I think the students will be excited about it."
Hopkins said one of the first questions prospective companies ask is if skilled labor can be found to fill available positions.
"What I like about industrial maintenance is it is the most comprehensive," Hopkins said. "It gives the students a little bit of everything. It is not as specific as some of the other degrees. It makes for well-rounded employees, and the companies can use them for a lot of different jobs so they can use those skills."
Graduates can use the associate degree to become millwrights, industrial motor control technicians, and electrical and electronics installers and repairers.
Electro-mechanical technicians and industrial maintenance mechanics are considered in-demand occupations in the region, according to Workforce Solutions of West Central Texas.
Steve Collins, business and resource consultant at Workforce Solutions, said there are more than 800 job openings now in the wind farm, oil and gas and manufacturing sectors in Callahan, Jones and Taylor counties for installation, repair and maintenance. The number can shift almost daily as hiring is done and jobs are open.
Collins said TSTC's Industrial Maintenance program will be helpful to fill employment needs.
"The more education you can get, the better qualified you are," he said.
Joe Tiner, chief engineer at Texas Healthcare Linen in Abilene, said he needs maintenance technicians who can read blueprints and troubleshoot electrical problems quickly and know how to fix machinery. He said it was great that students will get to study Industrial Maintenance in Abilene.
"Those are the guys that TSTC will produce and give them a baseline of what they need to do once they are in the field," he said. "That is how I learned."
The high-tech laundry company works with hospitals in Abilene and throughout West Texas to clean their 14 million pounds of laundry per year.
"We work long shifts, five days a week, and are at only about 50 percent of our capacity," Tiner said. "We have been growing."
The new Industrial Maintenance program has also piqued the interest of area companies.
Acme Brick, based in Fort Worth, has a production plant in Lubbock and retail brick, tile and stone stores in Abilene, Amarillo, Lubbock, Midland and San Angelo.
"That would be a nice place to look," Yulonda Charles, Acme Brick's human resources manager, said about TSTC in Abilene. "I do partner with TSTC on most of their campuses. We are looking for trainees coming out of TSTC, but they need to be open to moving where we have a plant."
West Texas Industrial Engines Inc. in San Angelo specializes in engine overhauls, field services, machine shop services and other work for the oil and gas field.
"The problem with filling jobs is San Angelo's unemployment rate is less than 3 percent, so our opportunities to fill positions in the industrial field are very limited," said C. Alan McClain, the company's president and chief executive officer and a TSTC in Sweetwater alumnus.
He said it was exciting that TSTC in Abilene was expanding its technical offerings with the Industrial Maintenance program.
"I think it will be outstanding," McClain said. "Anything we can do to help get people in the skilled trades and get them an education and place them in skilled trade jobs would be great."
The Industrial Maintenance program will be offered in Abilene pending approval from the Southern Association of Colleges and Schools Commission on Colleges.
For more information on Texas State Technical College, go to tstc.edu.
TSTC Commencement to Be Held April 27 in Marshall
April 16, 2018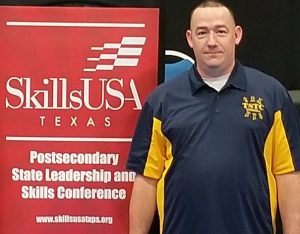 (MARSHALL) – Texas State Technical College Precision Machining student Joshua Davidson will cross the stage Friday, April 27, with a smile, knowing that he already has a job waiting for him.
Davidson, an Air Force veteran, was offered a job as a tool and die maker at Emerson Electric and will begin working after he graduates. Davidson said it is great knowing he does not have to worry about finding employment after graduation.
"It felt awesome knowing that there's a company out there that wants my skill set and wants me to fill the opening that they've got," he said.
TSTC's Career Services office selected Emerson to be a presenter for an Employer Spotlight day at TSTC. Davidson said that was when he first met with the company.
"I sat down and talked with them," he said. "Pretty much the next day, I went down there and did a tour of the Emerson plant. About a month later, I was sent a job offer, and they've basically been waiting on me to finish up school."
Davidson chose to pursue a degree in machining after visiting the school for a tour.
"I saw some stuff that had been done — basically woodworking — on CNC (computer numerical controls) and it piqued my interest," he said. "I kind of wanted to get into a job that I could learn how to do that and be able to do my hobby on the side."
He is also working on a Computer-Aided Drafting and Design degree but said he will have to finish those classes at a later date.
Davidson, president of the Beta Beta Phi chapter of Phi Theta Kappa, said he enjoyed his time at TSTC overall.
"I've had excellent support from my instructors," he said. "It didn't take me too long to get through the program, so that was nice. TSTC is an excellent school; I'd consider it one of the best technical colleges. They will provide you with an excellent education."
Davidson will join 75 other students eligible to walk the stage at TSTC's commencement ceremony in Marshall. The ceremony will begin at 6 p.m. at the Julius S. Scott Sr. Chapel at Wiley College.
TSTC is registering now for the fall semester. The last day to register is Monday, Aug. 20, and classes begin Monday, Aug. 27.
For more information on the college, visit tstc.edu.