TSTC in Waco Auto Collision Students Receive Recognition
September 21, 2017
(WACO) – Texas State Technical College students Hector Corujo and Jose M. Rodriguez have a lot in common.
Corujo, 34, and Rodriguez, 45, are natives of Puerto Rico and U.S. Army veterans. They are both studying in TSTC's Auto Collision and Management Technology program and have received a national scholarship for members of the military and veterans.
The students received the 2017 3M Hire Our Heroes scholarship sponsored by the 3M Automotive Aftermarket Division and the Collision Repair Education Foundation. Corujo and Rodriguez were among 12 veterans receiving $2,000 scholarships. The students also were among 40 veterans who received tool grants.
"It helped me a lot," Corujo said. "It took a burden off my shoulders. I feel like when I go out in the industry, I will be a more complete technician."
The students were encouraged to apply for the scholarship by Clint Campbell, department chair of Auto Collision and Management Technology at TSTC.
"Any of the ex-military students tend to be mature coming to class and doing their work," Campbell said. "They are prompt in being on time. They become leaders in the class."
Corujo moved as a teenager from Puerto Rico to Florida, where he graduated from high school. The Killeen resident spent 14 years in the U.S. Army and worked as a light wheel vehicle mechanic. His Army stint included three tours of duty in Iraq.
Corujo is studying for the Associate of Applied Science degree in Auto Collision and Management Technology – Refinishing Specialization with future plans to pursue the Advanced Technical Certificate in Auto Collision Refinishing.
He is scheduled to graduate in December 2018. His goal after graduation is to open his own auto collision and refinishing shop and own a home in the Hill Country with horses.
"I just like working on cars," he said. "It keeps me at ease in dealing with PTSD for me."
Rodriguez, of Kempner, grew up in Puerto Rico and studied criminal justice but could not find a quality job. His sister convinced him to join the military at 32 and he spent 11 years working in military intelligence. Rodriguez did one tour of duty in Afghanistan and two tours of duty in Iraq.
Rodriguez is working on a certificate in Auto Body Refinishing and is scheduled to graduate in December. He wants to work in an auto body shop after graduation.
He hesitated to apply for the scholarship at first because he felt others needed it more than he did. But in the end, Rodriguez said he was happy he received the recognition.
Rodriguez said he has enjoyed meeting other veteran-students while at TSTC.
"You exchange experiences and advice and opinions," he said. "You get to help the younger students to be more proactive. We tell them to look ahead of the situation and think two steps ahead."
For more information on Texas State Technical College, go to tstc.edu.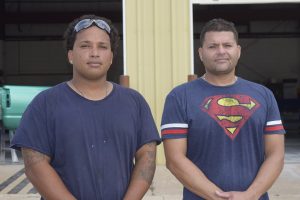 TSTC Micronauts Program Explores STEM Education
September 20, 2017
(HARLINGEN) – Three, two one… lift off. Texas State Technical College's Micronaut Program at the Challenger Learning Center is launching for its second year in October and is already booking missions.
Yvette Mendoza, TSTC's coordinator for the Center for Science and Math Education, said this program is about helping elementary-age students increase their understanding and interest in science, technology, engineering and mathematic (STEM) fields.
"We want to plant the STEM seed at an early age," said Mendoza. "This will open their eyes to the many opportunities that are out there for them."
The Challenger Learning Center hosts flight missions for junior and high school students while the Micronauts Program is open to kindergarten through fourth grade students from across the Rio Grande Valley and beyond.
"We've had schools as far as Falfurrias bring their students to our center," said Mendoza.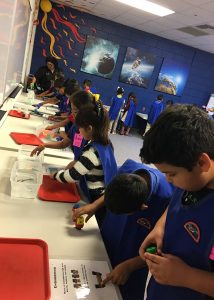 "Teachers believe in the program and how it benefits their students."
The Micronauts program offers students the opportunity to learn science with hands-on projects such as building circuit boards, experimenting with kinetic sand, magnets and microscopes, and learning about computer coding and the solar system.
Students also get to experience the Challenger space shuttle and TSTC's planetarium.
"The best part of this program is seeing how excited the children get walking through our building, riding our space shuttle and doing their projects," said Mendoza. "The enthusiasm in their voices lets us know this program is a success."
What makes the program popular among teachers and parents is that each lesson is aligned with Texas Essential Knowledge and Skills (TEKS) required curriculum and testing.
"Eventually, everything the students learn during Micronauts will be taught by their teachers in class," said Mendoza.
The program runs on a school-year calendar, beginning in October and ending in May, giving teachers and schools a chance to book their missions at their convenience.
"This is the first step in STEM education," said Mendoza. "In the past year more than 5,300 students have visited our center and our goal is to enhance the way each of these students thinks about science and related fields."
To enroll in Micronauts or for more information on how to book a mission call the Challenger Learning Center at 956-364-4125.
TSTC Nursing Program Welcomes New Class
September 20, 2017
(HARLINGEN) – The Fall 2017 semester marked a new beginning for the Registered Nursing program at Texas State Technical College and the 30 students who make up its newly formed class.
The students are part of TSTC's licensed vocational nurse to registered nurse transition program. It's a one-of-a-kind in Cameron County and has already proved to be a highly-competitive and an in-demand program.
TSTC Vocational Registered Nursing Program Director Shirley Byrd said it was always the college's number one priority to reopen the program after a two-year hiatus to revamp curriculum and improve passing rates.
"We're back and ready to produce highly-skilled, compassionate nurses," said Byrd. "We have a lot of support from TSTC administration and the excitement surrounding this program is immense."
TSTC's Vocational Registered Nursing program accepts 30 students per year and the program runs from August to August.
And for many students like Daniel Avila, who had to compete with 60 other applicants to be accepted into the program's inaugural class, this means a chance at a new career and life for him and his family.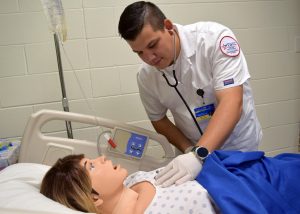 Avila, husband and father of two, is already a licensed vocational nurse. He graduated from Rio Grande Valley College in 2013 and works in the home health care sector.
The 25-year-old said TSTC's nursing program puts him one step closer to his long-term goal of becoming a nurse practitioner and being able to better support his family.
He added he was first inspired to pursue a nursing career after his son spent two weeks in the neonatal intensive care unit.
"I love what I do right now, but I know being a registered nurse will open doors of opportunity for me," he said. "I want to be an advocate for patients the way my son's nurses were for him."
Avila said he could have chosen to do nursing anywhere, but he chose TSTC because Byrd and other nursing program staff believed in him immediately and were great at communicating what was needed to apply unlike other programs he had looked into.
"TSTC really helps us strive to be our best," added Avila. "Everyone wants us to succeed, probably more than we want to. This is the setting that will help me be a leader in my field."
Students enrolled in TSTC's Registered Nursing program will learn advanced nursing skills such as intravenous (IV) therapy, patient assessment and care planning, in addition to managerial skills.
TSTC nursing students will have access to a new state-of-the-art nursing center on campus with classrooms and simulation labs filled with the latest technologies used in the nursing and medical fields.
"Our goal for this program is to not only teach to have a 100 percent national exam pass rate, but also produce dedicated and compassionate nurses," said Byrd.
Students who successfully complete the nursing program, must also pass the National Council Licensure Examination, a standardized exam required by the state board of nursing.
Careers in nursing are available at places such as hospitals, clinics and long-term care facilities.
As for Avila, he said he is keeping an open mind about what he will do when he graduates in August 2018, but for now added that he is thankful for the opportunity of being accepted into this program.
"So far the program has exceeded all of my expectations," he said. "This is something I have wanted for a long time."
Applications for the Fall 2018 class open in March 2018.
For more information on the RN program, call the TSTC Nursing Center at 956-364-4983 or visit tstc.edu.
Student Success Profile
September 20, 2017
(HARLINGEN) –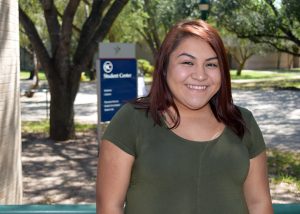 Ana Escamilla is completing her Academic Core at Texas State Technical College. The Rio Hondo native expects to complete her courses Summer 2018.
When the 18-year-old is not busy studying, she is volunteering around campus and her community with the TSTC Service Squad.
Escamilla is also a Certified Nursing Assistant (CNA), a certification she earned as a junior at Harlingen High School, and has worked in her field as a CNA at Windsor Atrium in Harlingen.
What are your plans after graduation?
After I graduate I want to work toward getting into a registered nursing program, and eventually transfer to a local university to get my bachelor's degree in nursing.
What's your dream job?
My dream job is to become a neonatal nurse practitioner. My passion in life is helping others and there is nothing better than helping to nurse a person or baby back to good health.
What has been your greatest accomplishment while at TSTC?
My greatest accomplishment so far has been having the motivation to enroll in college. I really wanted to take time off to keep working partly because I was afraid of failure. Coming back has been the best decision I could have ever made.
What greatest lesson have you learned about yourself or life?
I have learned the lesson of hard work from my parents. My parents and I have struggled a lot financially, and seeing them work so hard to support me and help my dreams come true means the world to me. Their hard work is my motivation to be successful. It's going to be my way of paying them back for everything they have done.
Who at TSTC has had the most influence on your success?
Steve Guevara, TSTC Veteran Center director, and Jose Villegas, Veteran Center program officer, have had the most influence on my success. My dad is a veteran and I'm using his Hazlewood Act to get an education, and these two men have guided me through the entire paperwork and registration processes.
What is your advice for future TSTC students?
The best advice I have for students in general is do not procrastinate. Someone once told me this and from experience procrastination makes life harder. Get things done ahead of time and semesters will not seem as stressful.
TSTC Welcomes Two New Recruiters
September 18, 2017
(HUTTO) – Texas State Technical College welcomed two new student recruiters this month at its Williamson County campus.
Stephanie Guillory, of Round Rock, and Melissa Zamora, of Hutto, joined the recruitment team at the beginning of September.
Guillory made the move to TSTC after working for Round Rock ISD for 15 years, beginning as a teacher and later working in administration. She and her husband, who is also a teacher, share a passion for education.
"I want to help students reach their highest potential. My husband and I were raised in two different households. My husband is one of 19, and I'm an only child. For myself, being raised by a single mom, it was a big deal to get an education and have a successful career. It was ingrained in me early, but my husband didn't have that. He was encouraged more by his teachers."
Guillory became interested in joining higher education by listening to recruiters at college nights with her students.
"I wanted a career change, but I still wanted to be in higher education," she said. "The recruiters piqued my interest."
So far, Guillory is enjoying the position and is eager to tell students about TSTC.
"I'm excited about being able to go to schools and tell them about TSTC and what we have to offer. I've been in the classroom for so long and all they've promoted are the four-year colleges, not a trade or another option for post-high school. I'm excited to get the word out."
Zamora is a four-year TSTC veteran who moved to Hutto from TSTC's Harlingen campus. She is excited to see the campus grow.
"I know what TSTC has to offer, so I'm excited about spreading that across the state," she said. "I love the transparency of the Williamson County campus. We can view so much — our labs and facilities — while we're giving our tours."
Zamora has also enjoyed the campus faculty and staff.
"Everybody has been so welcoming," she said. "It feels like a very strong TSTC community."
As a TSTC graduate herself, Zamora wanted to help students navigate their college years.
"I was kind of clueless as a student, and I think that's what made me want to help others," she said. "I'm a first-generation college student and I'm the youngest in my family. For me it's like, 'how can I help someone that was me?'"
Her favorite thing about TSTC is its job placement record.
"We put our money where our mouth is," she said. "I feel like we're on the cusp of changing education. We're about change and we're about results."
TSTC Provost Edgar Padilla was happy to welcome the two to the team.
"It's exciting to see great talent joining our Williamson County team," he said. "Melissa brings a wealth of knowledge and institutional experience from her previous role in Harlingen and will immediately contribute to our success. Stephanie is a longtime educator with Round Rock ISD and understands the evolving nature of secondary education. Her expertise will go a long way in bolstering our recruitment efforts. We are very pleased to welcome them both to our phenomenal team!"
TSTC touts itself as being "a great place to work" and is currently hiring for positions at its 10 campuses statewide. For information on open positions at TSTC, visit 
tstc.edu/about/employment
.