Gerdau Donates ,000 for TSTC Scholarships
June 21, 2018
(RED OAK) – Gerdau's Midlothian Steel Mill has pledged to donate over $10,000 for scholarships to Midlothian ISD students to attend Texas State Technical College.
For the first year, Gerdau pledged $3,000, which will be matched by The TSTC Foundation to provide six $1,000 scholarships to students in the college's Industrial Maintenance program. The second year will bring another $3,000 for first-year students, with at least $4,000 more for second-year scholarships.
Gerdau's relationship with TSTC began in 2015, when the company sent 13 of its employees to train at the college's North Texas campus in Red Oak. Gerdau later received a Texas Workforce Commission Skills Development Fund Grant to train an additional 189 employees at TSTC.
"Gerdau has had a very strong relationship with TSTC for the last couple of years and currently sends over 50 — and growing — of their employees to North Texas to get their associate degree in Industrial Maintenance," said Jessica Ford, field development officer at TSTC.
With these scholarships, Gerdau hopes to help fill the expanding shortage of skilled workers.
"There is a growing resource gap in skilled trades across the U.S. And in a booming area like Dallas-Fort Worth, that gap is becoming even more challenging," said Gerdau Midlothian Human Resources Manager Ryan Hube. "Encouraging today's youth to enter into these programs will be instrumental in attracting them to careers at Gerdau and other domestic manufacturers."
Hube also hopes the scholarships will encourage local high school students to look into technical fields like Industrial Maintenance at TSTC.
"Our goal is to recruit young talent with the technical aptitude we need directly from TSTC's program," he said. "We are confident that this scholarship is a great first step in attracting local talent to manufacturing in order to meet our future needs while at the same time continuing as a partner for this community for years to come."
Hube said the company is proud to support the local community.
"The scholarship presented itself as a unique opportunity to give back to our community while at the same time developing a pipeline of talent to fulfill future people-needs at the mill," he said. "We've had great success thus far by partnering with TSTC to develop our own employees through the Industrial Maintenance program. We're hoping to build on that success by providing scholarships to local high school graduates and eventually give them opportunities with Gerdau."
Besides TSTC, Midlothian students are the winners overall, Ford said.
"This benefits TSTC by allowing us to provide scholarships to students from Midlothian ISD that we could not do otherwise," she said.
The TSTC Foundation supports the Texas State Technical College campuses across the state, supporting the critical needs of students and providing funds to enhance TSTC's ability to provide new and emerging technical programs to support the Texas workforce.
For more information on The TSTC Foundation, visit tstc.edu/tstcfoundation.
TSTC is registering now for the fall semester. For more information, visit tstc.edu.
TSTC Presents Faculty Member of the Year Award
June 21, 2018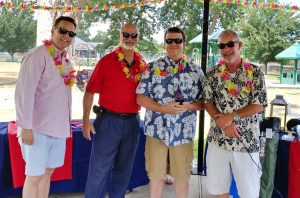 (MARSHALL) – Employees at Texas State Technical College in Marshall celebrated Employee Appreciation Day on June 15, a day that included fun for employees and awards for employees of the year.
Josh Stampley, Computer-Aided Drafting & Design instructor, was chosen as faculty member of the year for the Marshall campus.
Stampley, a Marshall resident and graduate of Kilgore College, began working at TSTC in September 2016 after working in the industry for nearly 20 years.
"I was doing all the drafting and eventually became the general manager," Stampley said. "I had daily duties of drafting, running machines, welding — whatever I needed to do to keep it running."
Employees of the campus submitted nominations for the award, and the winner was chosen by vote. Stampley's fellow employees had great things to say about him, with one teammate writing, "Josh is an exceptional team player. He is always willing to help others without any hesitation. Additionally, Josh has a very cheerful disposition and always exemplifies professionalism."
Stampley said he was happy to receive the award.
"It's a very neat feeling to get that since I don't have a whole lot of years in education. It's been a blast here. The people are great, and it was a good experience. I enjoy every bit of it."
He is glad his co-workers notice his enjoyment for the job.
"I hope that everyone sees that I try and do a good job," he said. "I really like what I do and try hard."
He takes pride in knowing he is getting his students ready for work.
"My favorite thing, besides the help of the faculty and everyone being there for you, is the students and how you can turn them, and mold them, into a 'product,'" he said. "I dealt with metal and steel products in industry; now I'm dealing with a human product. I can mold (students) into the best drafters that I can and put them in the workforce. I thoroughly enjoy that."
Knowing that his former students enjoy their jobs keeps him motivated.
"I keep in contact with several students that have graduated and moved on into jobs," he said. "They enjoy their jobs. To see that they like doing what they're doing really helps me to stay focused and keep toward my goal of trying to educate these students and get them out there and working."
TSTC prides itself on being "a great place to work" and is currently hiring for positions at its 10 campuses statewide. For information on open positions at TSTC, visit tstc.edu/about/employment.
Windthorst Student Aims for Gold in Louisville for TSTC
June 21, 2018
(WACO) – Cody Scheffe is building a staircase to gold forged from sawdust and determination.
Scheffe, 21, of Windthorst, is a Texas State Technical College in Waco Building Construction Technology student. He made his SkillsUSA debut in April at the State Postsecondary Leadership and Skills Conference, where he claimed gold in carpentry. He will now go on to represent Texas at the SkillsUSA National Leadership and Skills Conference being held June 23-29 in Louisville, Kentucky.
"The first I'd heard of SkillsUSA was when I got to TSTC. My instructor, Mr. (Michael) Carrillo, was talking about it, and it sounded like a good opportunity," Scheffe said.
SkillsUSA is a national partnership of students, teachers and industry working together to ensure that America has a skilled workforce.
The carpentry competition consists of one student working in an allotted time to frame walls, cut and install rafters, demonstrate knowledge of stair construction and more. Contestants are judged on accuracy, ability to read and interpret blueprints, workmanship, safety, and the proper use of tools, equipment and materials.
"I didn't think I was going to win because I was going against a guy who had competed before and had already gone to nationals. I thought it would be close, but I was pretty surprised," Scheffe said.
After winning at state, Scheffe's drive to win at the national level was encouraged as he began training regularly with TSTC Building Construction Technology instructors John Russell and Michael Carrillo.
"It's his first year, he won state, and he's a third-semester student. That's really impressive because some of the things that the project is testing him on are on the advanced level and he hasn't learned yet in the classroom," Carrillo said.
Carrillo also competed in carpentry at SkillsUSA when he was a student, placing fourth at the national level. He pulls from his personal experience to offer guidance.  
"It's understanding the game of the contest. It's more aesthetics than anything, so geometry is real big. But it's all a learning experience, and their overall goal is not that medal." Carrillo said. "I owe a lot to SkillsUSA career-wise, job placement-wise, and that is worth more than any medal."
Through SkillsUSA, Scheffe has become aware of numerous prospects made available to him and plans to capitalize on them.
"SkillsUSA means job opportunities," Scheffe said. "I've had people ask me to send them resumes and even had a job offer already, but I'm looking forward to the networking and travel and potential scholarship money."
Scheffe has earned the respect of his instructors, who were already impressed with his performance in the classroom, while competing at the state level. They have high hopes for him at nationals.
"A lot of what I like to do is work with (students') psyches," Russell said. "They can have the skills, but do they have the mental attitude? He does. Cody doesn't get flustered, he doesn't get upset, he's levelheaded, and he pays attention. He's got the skill level and the attitude, and I think he'll place — if not win."
Time spent training with his instructors and previous experience working with his father's company have combined to give Scheffe a sense of confidence when approaching the national level.
"Mr. Carrillo and Mr. Russell have really helped me prepare for SkillsUSA by helping me come up with a game plan," Scheffe said. "And I'm used to pressure, working with my dad's business where it's always go-time. They've all helped me with everything."
Scheffe will graduate in spring 2019 with an Associate of Applied Science degree in Building Construction Technology.
For more information on SkillsUSA, visit skillsusa.org.
Registration for fall classes at TSTC is underway. For more information, visit tstc.edu.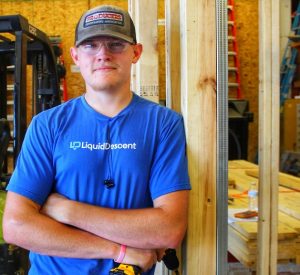 TSTC and Hendrick Provider Network Celebrate TWC Skills Development Grant
June 21, 2018
(ABILENE) – Leaders from Texas State Technical College, the Texas Workforce Commission and Hendrick Provider Network gathered Thursday to commemorate a TWC Skills Development Fund grant.
The original grant amount was $110,512, which created or upgraded 66 jobs at the health care provider, but an amendment to the grant added another $121,044 and helped an additional 58 employees.
"We offer a great solution to working with industry partners and are fortunate to work with the TWC," said Rick Denbow, provost of TSTC in Abilene.
Of the employees trained, 24 became certified medical coders, 10 became certified medical office managers and 35 earned certificates in medical front office skills. TSTC's Workforce Training and Continuing Education partnered with the Practice Management Institute to fulfill the training.
Some of the classes Hendrick employees took at TSTC dealt with insurance claims processing, procedural terminology, advanced coding and auditing.
"Health care has been underserved in the education realm," said Hendrick Provider Network Operations Manager Marjohn Riney. "The health care industry has changed. Nobody has been educating front office staff."
Riney said the training has led to increased tenure among employees and an empowerment in knowledge and competence.
The regional economic impact of the grant is expected to be $1.2 million, said TWC Commissioner Representing Labor Julian Alvarez III, who presented the check.
"What you are doing is keeping up and listening to industry," Alvarez said. "You are customizing training to industry needs."
Hendrick Provider Network in Abilene is a multispecialty group with providers in cardiology, infectious disease, nephrology, orthopedic surgery and other medical fields. It is part of the Hendrick Health System.
"Hendrick is one of our primary employers, and their growth is critical to our economy," said Justin Jaworski, executive director of the Abilene Industrial Foundation.
The Skills Development Fund has been used since 1996 to localize workforce training for Texas companies. This enables companies to work directly with local partners to develop training tailored to employees' needs. The competitive grant has assisted more than 4,200 employers statewide, according to the TWC.
For more information on Texas State Technical College, go to tstc.edu.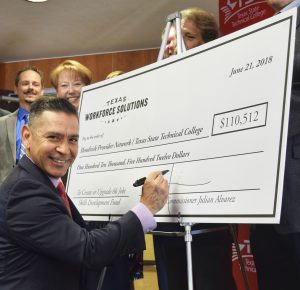 TSTC Offers Precision Machining Scholarships Through HAAS Grant
June 18, 2018
(MARSHALL) – Texas State Technical College has been granted $10,000 from the Gene Haas Foundation to award Precision Machining Technology students with scholarships.

The program will award 10 new students with $1,000 each — $500 for the fall semester and the other half for the spring.

TSTC's Precision Machining program will begin hosting weekly Lunch and Learn sessions on the program beginning Friday, July 6, and continuing through Friday, Aug. 10. Potential students must attend one of these sessions and enroll in the program to be eligible to receive the scholarship.

The Gene Haas Foundation, which is headquartered in Oxnard, California, was established in 1999. Haas started Haas Automation Inc., a builder of computer numerical control (CNC) machine tools, in 1983. Aware of the "Skills Gap," a lack of skilled workers to fill jobs in the U.S., Haas directed the board of his foundation to focus on scholarships in manufacturing education.

Daniel Nixon, head of TSTC's Precision Machining department, hopes the scholarships will help boost enrollment in the program and said now is an opportune time to join the machining industry.

"Right now there is a shortage of good machinists not just statewide, but nationally and worldwide," he said. "It's a good time for a young person to get in at the ground level and build themselves into a career."

Nixon elaborated on some positions that may be available after receiving training in the field.

"Some of the job descriptions they would be looking for after they graduate are CNC operator, CNC machinist or just machinist in general," he said. "In the job, employees will be modifying and repairing tools, using precision instruments to measure products and organizing leadership while following safety protocols."

O*NET OnLine predicts a healthy 15 percent increase in machining jobs, or 90 new jobs annually, in Texas through 2024.

For more information on TSTC's Precision Machining Technology program, visit tstc.edu.