Waco Cisco Group at TSTC Seeking New Members
January 18, 2018
(WACO) – Local Cisco enthusiasts have a place where they can interact with Dallas-Fort Worth- area professionals without leaving Waco.
TSTC is home to the Waco Cisco Satellite Users Group led by John Washington, an instructor in the Computer Networking and Systems Administration program. Monthly video teleconferencing meetings with the Dallas-Fort Worth Cisco Users Group allows students and others throughout the area to learn about Cisco equipment, networking technology and job opportunities.
Washington said his goal for the group is to have more students and area professionals attend and learn.
"When they have their meetings, they ask who is there and if anyone is looking for jobs," Washington said. "It is a chance for employers and people attending the meetings to contact each other with particular skills."
The Dallas-Fort Worth Cisco Users Group is the largest and oldest such gathering in the United States, said Beau Williamson, the group's president.
"Many of the students and people just starting out in their technology careers have been helped by the Dallas-Fort Worth user group to obtain their certifications via study groups, as well as doing people networking," Williamson said. "Many members have launched very successful careers by actively participating in the user group meetings and study groups."
TSTC's Computer Networking and Systems Administration program offers students the opportunity to earn Cisco Certified Entry Networking Technician (CCENT) and Cisco Certified Network Associate (CCNA) Routing and Switching certifications. TSTC is a designated Cisco Academy.
"Cisco Certified professionals are in big demand, and certifications like the CCNA, CCNP (Cisco Certified Network Professional) and CCIE (Cisco Certified Internetwork Expert) are key to opening the door to new or better opportunities for our members," Williamson said. "The industry is evolving and we are finding that other skills such as Python scripting for DevNet, DevOps and Network Function Virtualization (NFV) are increasingly becoming important."
The Dallas-Fort Worth Cisco Users Group and Waco Cisco Satellite Users Group meet at 6 p.m. the first Wednesday of each month. The Waco gathering meets in the Bowie Room on the third floor of the John B. Connally Technology Center at the corner of Campus Drive and Crest Drive at TSTC.
The next meeting of the Dallas-Fort Worth Cisco Users Group and Waco Cisco Satellite Users Group will be at 6 p.m. on Wednesday, Feb. 7. The meeting will be a discussion about mobile threat detection using on-device machine learning engines.
For more information on the Dallas-Fort Worth Cisco Users Group, go to dfw.cisco-users.org.
For more information on Texas State Technical College, go to tstc.edu.
TSTC Building Construction Technology Students Learn About Protection Equipment
January 17, 2018
(WACO) – Students in the Building Construction Technology program at Texas State Technical College recently learned about the importance of personal protection equipment.
Ben Sanchez, a safety specialist for Richards Supply Co. in Fort Worth, talked to students about what the safety responsibilities of employers and employees.
The Occupational Safety and Health Administration regulates workplace safety guidelines.
There were 991 deaths in the construction field in 2016, according to OSHA. The agency's "fatal four" for most of these deaths were falls, being hit by objects, electrocutions and caught-in or -between situations involving equipment or collapsing structures.  
Construction industry safety could save more than 630 lives in the United States per year, according to OSHA.
"Employers must protect their employees," Sanchez said.
Employers should perform a regular hazard assessment and find ways to eliminate problems. After hazards are assessed, employers need to consider what personal protection equipment is needed, Sanchez said. Some of the equipment can include ear protection, respirators, hard hats and safety vests.
Some of the workplace dangers that can occur include falling tools, which can be remedied with tool lanyards. There were 93 worker fatalities from being struck by objects in the U.S. in 2016, according to OSHA.
Sanchez said people in the construction field need to wear face protection to reduce injuries caused by dust particles, cleaning solutions, chemical splashes and other substances. Face protection includes properly fitting, prescription eyewear with the correct indoor and outdoor tints and coatings.
"The quality of the coating matches the cost of the glasses," Sanchez said.
Eyewear should also include quality foam lining.
"You are not going to get a good seal with just plastic on your face," Sanchez said.
Some construction work requires respirators, which employers must have employees wear only if they are cleared medically and physically. Sanchez said employers should develop worker change-out schedules when respirators are needed.
"If you can smell or taste it, it's in your lungs," he said.
Sanchez said hearing protection should be used according to the decibel level of what is happening around employees. He said the noise-reduction rating should be considered when buying hearing protection.
According to the National Institute for Occupational Safety and Health, more than 4 million workers work in damaging noise conditions. In 2017, there were 23,000 cases nationally reported of occupational hearing loss that could lead to hearing impairment, according to NIOSH.
Students said they were glad to hear the information, which is reinforced daily by faculty members through quizzes, course lessons and enforced guidelines for working in the construction lab.
"Looking forward, our end goal is getting a good job," said Courtney Seelhorst, 29, a Building Construction Technology major from Plano. "To have someone from the outside in industry coming to talk to us makes it real and applicable."
Mae Allen, 18, a Building Construction Technology major from Waco, said Sanchez's talk made her think more about protecting her eyes.
"I like taking things and making them new," Allen said. "I'm good with my hands and doing things myself."
For more information on Texas State Technical College, go to tstc.edu.
TSTC Student on Path to New Career
January 15, 2018
(FORT BEND) – Gerardo Garcia was the only graduate in December to get a perfect 4.0 grade-point average and earn Board of Regent graduate honors, and he managed this accomplishment against great odds.
Garcia earned his certificate in Heating, Ventilation and Air Conditioning (HVAC) Technology during TSTC's Commencement Ceremony at the Rosenberg Civic Center.
This semester, the Zapata native is back in the classroom pursuing an associate degree in his field and another perfect GPA.
"I have big goals for myself and before TSTC they weren't happening," said Garcia. "My future was uncertain and now I feel like things are falling into place."
The 27-year-old's journey at TSTC started when he got laid off from his job in the oil and gas industry and was invited by his twin sisters to join them in Houston.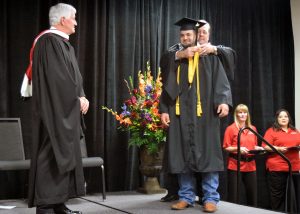 "For six months I had no job and no money," said Garcia. "I was tired of being considered not hirable."
So in January 2017, Garcia enrolled at TSTC and got a part-time job at Home Depot to pay for school. However, it was not an easy ride.
"Everything about my classes was great," he said. "The instructors were attentive and always there for me and the hands-on training I was receiving was excellent, but I was struggling personally."
While at Home Depot, Garcia worked well into the night. At least twice a week, Garcia would get out at 3 .m. and would sleep in his car to ensure that he made it to class by 8 a.m.
On the days he would get out earlier he would make the half-hour drive home to finish homework and get some sleep.
"It wasn't easy working overnight and I didn't want my education to suffer," he said. "But I also needed the money."
So, instead of leaving school, he left Home Depot and found a job at HEB.
"It was the best decision I could have made," said Garcia. "HEB's schedule allows me to focus more on school. I'm well on my way to a new career."
Garcia has dreams of someday getting his contractor's license and starting an HVAC residential and commercial business after getting some experience in the field.
"With an associate degree, my resume will no longer be tossed to the side and ignored," said Garcia. "I have a degree and skills that people are looking for and it's now going to be easier finding a job."
Garcia, who expects to earn his associate degree Summer 2018 said he wants others to know that if they are looking for a new career or a career change TSTC is the place to go.
"TSTC is changing my life and will lead me to job security and stability," said Garcia. "I highly recommend TSTC."
For more information on HVAC Technology or to apply and register anytime, visit tstc.edu.
Student Success Profile – Jackeline Perez
January 15, 2018
(HARLINGEN) –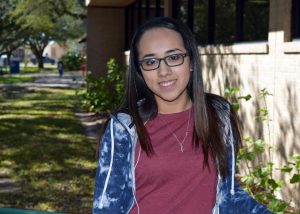 Jackeline Perez is an Education and Training student at Texas State Technical College. The 18-year-old holds a 3.7 grade-point average and expects to earn her associate degree in Spring 2020.
When the San Benito native is not busy studying she can be found volunteering around campus and the community with TSTC's Service Squad.
What are your plans after graduation?
After I graduate I plan on continuing my education at the University of Texas Rio Grande Valley to pursue a bachelor's degree in Bilingual Education. I will also look for employment at a local school district so I can work and gain experience while still in school.
What's your dream job?
My dream job is to become an elementary bilingual teacher. Although, a girl can dream, and it would be nice to someday pursue a music career as a singer.
What has been your greatest accomplishment while at TSTC?
My greatest accomplishment so far is my high GPA. I know that maintaining my good grades will help me cross the finish line and receive my degree.
What greatest lesson have you learned about yourself or life?
The greatest lesson I have learned was taught to me by my mother and aunt. They have always told me to never give up. If I fail I know to get back up, keep going and strive for my goals. This advice keeps me going when I'm struggling.
Who at TSTC has had the most influence on your success?
The person who has had the most influence on my success is Amanda Tamez, my Developmental Math instructor. Math is not my strong subject and she helped me get through the semester and understand the material. She did such a good job at teaching me that I ended up with an 'A' at the end of the course. Thank you Ms. Tamez.
What is your advice for future TSTC students?
My advice is the same advice shared with me: Don't give up, dust yourself off when you fall and keep going. At the end everything you work hard for is worth it.
TSTC Hosts Fourth Annual Empowerment Conference
January 15, 2018
(HARLINGEN) – Texas is known as one of the states with the highest number of Deferred Action for Childhood Arrivals (DACA) program recipients, which is why Texas State Technical College, which serves more than 200 undocumented students, will focus its Fourth Annual Empowerment Conference on the issue.
This year's conference, hosted by TSTC's Student Support Services department, will be held on January 25 at the TSTC Cultural Arts Center from noon to 5 p.m. and is titled: DACA: The Dreamer's Challenge.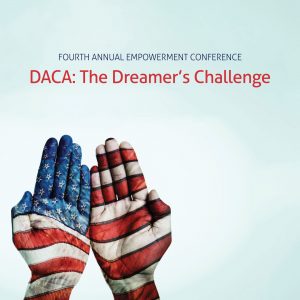 "This issue is one that has had a huge impact in our area and our state," said Student Support Services Coordinator Patty Flores. "There are so many students who are uncertain about their future in the United States and are lost and confused with how to handle the situation."
Flores said the goal of the event is to provide the resources DACA recipients, their families, friends and advocates need to make informed and educated decisions about their next steps.
The half-day event will include three speakers: Abraham Diaz, La Union del Pueblo Entero (LUPE) education specialist, Gabriel Sanchez, Texas Rural Aid and Ana Villegas, Villegas Law Office immigration attorney.
Presentations on "DACA and Know Your Rights," Texas Rural Legal Aid Services and "Be Prepared," will be presented by the speakers, respectively.
"Our goal is to educate and empower with information," said Flores. "This isn't an issue that only affects those who are undocumented. It's affecting their children and families as well."
To close this year's event, the Harlingen High School Drama Department will perform their play, "Tracks: Inspired by Real Events."
The play is dedicated to those who have suffered on the journey and lost their lives while immigrating to the United States seeking a better life and the American Dream.
The conference, which has touched on other issues such as human trafficking, drugs and cultural awareness, is open and free to the public.
"We encourage everyone from TSTC students, staff and faculty to the community to attend," said Flores. "This is an issue that hits close to home for many."
To register and reserve your seat visit Eventbrite at http://bit.ly/2mkbpMX. The last day to register is January 24.
For more information, call TSTC Student Support Services at 956-364-4525.