TSTC Welding Program Meets Industry Need
July 19, 2019
(SWEETWATER, Texas) – The welding program at Texas State Technical College is training and educating highly skilled welders quickly to continue to meet industry demand. 
Texas has the highest employment level for welders, cutters, solderers and brazers in the nation, according to the U.S. Bureau of Labor Statistics. And demand is expected to keep growing.
"The students come in and earn a Certification Level 1 – Structural Welding in three semesters and are trained in various welds like MIG, TIG, flux-core, stick, oxy-fuel, brazing and more," Taylor Elston, welding instructor at the Sweetwater campus, said.
As students near graduation, Elston spends time with each one figuring out their career plans and caters to their education with that in mind.
"About the third semester, we'll start asking the students which type of welding they enjoy most and where they want to live and what kind of job they want. Because in welding there are so many specializations, they can have a choice of where they end up," Elston said. "So, once we learn what they really want to do, we'll help them start preparing for that weld test so they can get the job they want."  
One of the biggest appeals to the welding program for student Kelton Grigsby was TSTC's proximity to industry and dedication to job placement.
"I want to work in Lubbock, and TSTC is close to those industry leaders. There is a big need for welders. I have family in welding, so I know how lucrative welding can be," Grigsby said. 
Grigsby began welding in high school. After graduating from Godley High School in 2018, he decided to attend TSTC. 
Clint Faulkner also chose the welding program for career growth opportunities.
"My dad and I have been building metal buildings, carports and other structures for the past four years, and it was important that I get a refresher on my welding and get the technical skills here," Faulkner said. 
After a nine-year career in truck driving, Faulkner, a Big Spring native, decided he needed a career that was more physically active. 
Grigsby and Faulkner are expected to earn their certificates and graduate in August.
TSTC students spend a majority of their time in the lab with hands-on practice to ensure the technical skills, but Elston says the college is also dedicated to ensuring that students are job-ready.
"With the TSTC Career Services team helping us, we really make sure the students have not only the quality education, but also the soft skills like resumes and job etiquette,"  Elston said. "We make them treat school like their job; they have to show up and show up on time. So when they graduate they won't just be good welders, but also good employees." 
Elston encourages anyone interested in the program to come to the campus and schedule a tour.
Registration for the fall semester is underway. For more information about TSTC, go online at tstc.edu.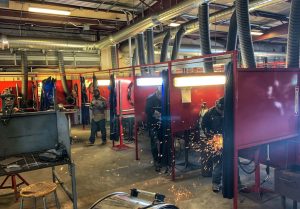 Texas State Technical College students at the Sweetwater campus practice their welding skills to prepare for high demand careers.
TSTC Students to Pursue New Program
July 19, 2019
(BRECKENRIDGE, Texas) – Texas State Technical College will offer Occupational Safety Compliance (OSC) Technology at its Breckenridge campus starting this fall, and two current TSTC students can hardly wait to take advantage of it. 
 Ivan Chavez and Brittoni Thornhill are both students in the Environmental Technology program and are expected to graduate in spring 2020 with their Associate of Applied Science degrees. When they found out that TSTC will offer the OSC program in Breckenridge, they chose to stay an extra semester to earn the second degree.
"It just fit really well with what we learned in the Environmental Technology program, but it goes even further and opens up even more job opportunities," Chaves said. "I'm excited to learn CPR and go more into emergency-response safety."
The Environmental Technology program has courses similar to what they will study in the new OSC program. This crossover allows the students to add on only one extra semester of college but graduate with two degrees. 
"I was always fascinated with science and knew I wanted to pursue something in that field. TSTC allowed me to explore the various job opportunities in the field and learn the skills that will make me competitive as I look for jobs or continue my education," Thornhill said. 
The program will educate students about Occupational Safety and Health Administration regulations within the workplace to keep employees from harm.
"The demand for workers with a safety degree is rising. Employers need safety personnel to manage the workplace so no one gets hurt," TSTC Environmental Health and Safety instructor Teresa Purcell said. 
Purcell encourages anyone who wants to ensure safer work environments to apply.
Registration for the fall semester is underway. For more information, log on to tstc.edu.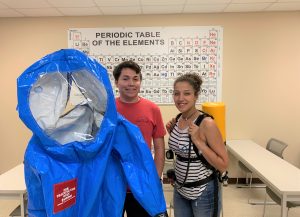 Pictured left to right, Ivan Chavez and Brittoni Thornhill are students enrolled in the Occupational Safety Compliance program.
TSTC Alumna Finds Dream Career at Local News Station
July 19, 2019
(ABILENE, Texas) –  If you asked Prissa Delostrico three years ago if she thought she would be working at a television news station today, she never would have considered it an option. Now, she doesn't plan on leaving anytime soon.
Delostrico is a Texas State Technical College Computer Networking and Systems Administration alumna. She graduated in December 2017 and now works as an information technology engineer for KTXS-TV News. 
"I never imagined I would be working for a news station when I started my degree at TSTC, and I was nervous at first. But, I've been at KTXS just over a year, and I love it because it's exciting and really fulfilling," Delostrico said. 
Delostrico was always interested in computers and recognized the importance technology plays in everyday life. 
"Technology is the future, and I knew I could find a job in that field if I could get a degree in it," she said. "Any business or organization that uses technology needs IT, and at KTXS I maintain the broadcast equipment, service our machines, care for our computers, laptops — anything I can do to help." 
As important as it was for Delostrico to get a degree in a lucrative career field, it was also important to find a college that was flexible with her schedule and could accommodate her needs.
"I was a stay-at-home mom, so I needed help with child care. TSTC helped me figure that out, as well as offering counseling services for me when I went through some hard times," Delostrico said. 
One person who truly stood out to Delostrico was her instructor Renee Blackshear. 
"It was awesome to have a female instructor because it is a male-dominated industry, but she was a great mentor and role model," Delostrico said. 
For Blackshear, Delostrico was a model student.
"Prissa Delostrico is a wonderful woman and a student any instructor would be honored to work with. She is insightful, works hard, accepting of any challenge, and determined to overcome any obstacles that may come her way," Blackshear said. "I look forward to many things to come for her."
One of Delostrico's greatest motivators to succeed was her goal to be a role model for her daughter. 
"I wanted to show my daughter that she can do anything she puts her mind to. It doesn't matter if she chooses a career that is male-dominated or not — she can do it," Delostrico said. 
As a nontraditional student, Delostrico knows how difficult it can be to take the step to go back to school, but she encourages everyone to give it a chance.
"Go on campus at TSTC and talk with the instructors, counselors and career people because you'll be surprised by how much they want to help you and see you succeed," she said.
Delostrico, an Abilene native, graduated from Cooper High School in 2005. 
Registration for the fall semester is underway. For more information about TSTC and the many programs offered, go online at tstc.edu.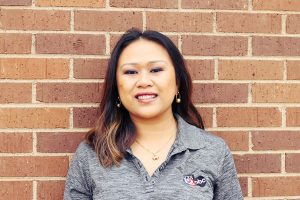 Prissa Delostrico is a Texas State Technical College Computer Programming and Systems Administration alumna working as an IT Engineer for KTXS Television News.
RGV migrant students attend TSTC MAARS summer program
July 19, 2019
(HARLINGEN, Texas) – This summer more than 50 high school students from Cameron, Hidalgo and Willacy counties have participated in the Migrant Academic Achievement Residential Summer (MAARS) program at Texas State Technical College.
MAARS is designed to meet the needs of high school migrant and seasonal farmworkers in pursuing higher education and to provide community service opportunities.
The six-week program is for rising juniors and seniors, who are selected by their school counselors. It assists the students in recovering class credit or helps them accelerate their anticipated course load at their high school.
Students reside on campus during the summer and are placed into technical programs offered at TSTC such as Precision Machining Technology, Auto Collision and Management Technology, and Mechatronics, which allows them to explore postsecondary education as well as career possibilities.
Throughout the MAARS program, students also have the opportunity to hear from TSTC representatives from Recruitment, Housing, Student Life and Career Services, along with professionals in law enforcement, marketing and entrepreneurship. They also complete community service hours at the Ronald McDonald House, Harlingen Recycling Center or the RGV Food Bank.
Upon successful completion of MAARS, students receive two high school credits and a $1,200 stipend.
Ambulances lead to TSTC classroom for new EMS instructor
July 19, 2019
(HARLINGEN, Texas) – From ambulances and sirens to a classroom setting, Crystal Espinoza is Texas State Technical College's newest Emergency Medical Services instructor.
Completing her sixth week on campus, the 32-year-old said this is a dream come true.
"Since stepping foot into my paramedic class, I knew I wanted to teach," said the McAllen native. "Watching the way my instructors worked and how they helped us understand even the hardest of concepts was my inspiration."
Espinoza earned an Emergency Medical Technology Associate of Applied Science degree from a McAllen college and has worked in the field for six years.
Before arriving at TSTC, she worked as an emergency medical technician with Hidalgo County EMS in Edinburg for three years, then as a paramedic with Med-Care EMS in McAllen.
She said many have asked her what motivated her to enter such a demanding health care field, and her answer is simple: compassion.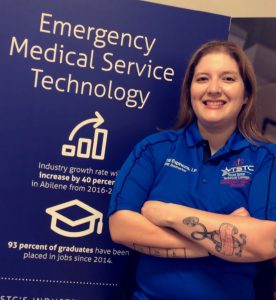 "I was in a major car accident several years back, and it was one of my scariest moments," she said. "I was panicking, and the paramedic that took care of me was so calm and collected. He was patient, understanding and calmed me down. From then on I knew I wanted to be someone's calm in their storm."
Espinoza calls her accident a blessing in disguise because before that day she had no clear path in life, and it gave her purpose.
"At the end of the day, this career is about helping people. And for me, that's rewarding," said Espinoza.
Now, at TSTC, her opportunity to help others continues.
Espinoza said her goal is to incorporate everything she has learned and her experiences from the field into the classroom.
"I have been lucky to have worked with some of the most seasoned paramedics in the field," she said. "These are the ones that have taught me a lot of what I know. And now I'm excited to pass that knowledge along to my students."
She said her goal is to produce skilled students who are ready to hit the ground running when they enter the field.
"Our goal is to get them trained, certified and employed with compassion and passion for this line of work," said Espinoza. "Not just anyone can do it. It takes a special person. On top of that, it takes a lifelong learner because every day is a new day of learning."
The fact that there is always something new to learn and always room for improvement keeps Espinoza moving forward.
"I have found my dream job, but I'm not stopping here," she said. "There's room for growth and opportunity of advancement here at TSTC."
Students who enroll in TSTC's EMS program can earn either an associate degree or a certificate as an emergency medical services paramedic or a certificate as an advanced emergency medical technician, with the skills needed to treat and assess patients at the scene and en route to a hospital.
Information sessions are hosted every Tuesday at 2 p.m. for those interested in the program.
The deadline to register for fall 2019 is August 23. The first day of classes is August 26.
To attend a session or for more information, call 956-364-4741 or visit tstc.edu.