Del Rio Students Find Their Place at TSTC
December 12, 2018
(WACO) – The tradition of Del Rio High School graduates traveling more than five hours north to attend Texas State Technical College in Waco continues to grow.
"We're especially proud that the Del Rio community values the work that we do and entrusts their students to us," said TSTC Provost Adam Hutchison. "It's a relationship that we intend to keep strong for many years to come."
Brenden Paradis, 19, is one of at least 15 Del Rio students who were enrolled during the fall semester in TSTC in Waco's Welding Technology program. He just finished his third semester in the program.
"The reason so many come here is because our (Del Rio High School) welding instructor, Tod Townsend, pushes us beyond high school and to get a college education," Paradis said.
Knowing that many of Del Rio's welding students have enrolled at TSTC since the late 1990s, as estimated by TSTC faculty members, made going to college easier for Paradis.
"All of the guys, at first, room together, but after the first year a lot tend to go out on their own," he said.
Paradis became interested in welding after attending a job fair during his freshman year of high school. He was impressed with sculptures on display that were made by welders.
"I would tell (other) students to really think about their future before their senior year comes up," Paradis said. "If you haven't decided on something, it makes it difficult to pick a path to go down."
After graduating in 2019 from TSTC, Paradis plans to take a summer advanced pipe course on campus and then work in custom fabrication.
Roger Gonzalez, director of career and technical education for the San Felipe Del Rio Consolidated Independent School District, said district staff looks at job opportunities in the area and reviews Texas Workforce Commission data to adapt classes for students. Some of the school district's most popular career and technical education (CTE) courses are in aircraft technology, health sciences, law enforcement and welding.
"We want our students to graduate with more than a high school diploma and be future-ready," Gonzalez said. "The school district continues to invest and expand the CTE program with the use of technology and industry equipment to better prepare our future graduates with expansion of industry certifications and dual-credit opportunities."
Gonzalez said the students in Del Rio's welding program build strong relationships with one another, making the transition to college a little easier.
"It seems TSTC is the destination for most of our welding students due to its excellent reputation within the welding community," he said. "Our welding students never leave us, at least not entirely. Every chance they get, they come to our welding class and share their positive college experience with our current high school students. I believe the reputation and the bridge established between TSTC and our welding program is evidence of our current and future success."
One Del Rio resident has started what he hopes is a new tradition for Val Verde County students attending TSTC.
Andres Hernandez, 19, of Del Rio finished his first semester in the Automotive Technology – Toyota Technician Training and Education Network, or T-TEN, specialization program. He is among the first generation in his family to go to college.
Hernandez said he has enjoyed the different teaching styles he encounters at TSTC and knowing more about automotive electrical systems.
Hernandez became interested in automobiles when he was a child because of his father, a mechanic. He learned about TSTC when a recruiter visited his high school when he was a sophomore.
"I knew most of the welding students go here (to TSTC)," Hernandez said. "It helped me because I would know some people here."
Hernandez said he misses his family occasionally but enjoys living on campus. When he is home for visits, he gets work experience as a lube technician at Toyota of Del Rio. He said he also works on tire rotations and other routine maintenance.
For more information on Texas State Technical College, go to tstc.edu.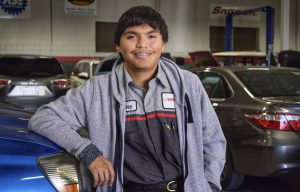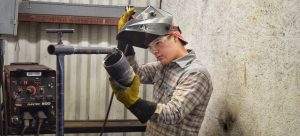 TSTC Welding grad has a bright future in the industry
December 11, 2018
(FORT BEND) – Cheyenne Kuta was only 16-years-old when she purchased her first $5,600 welding machine, she knew at the time that this would be a great investment toward her future.
Fast forward to December 2018, she is now a graduate from Welding Technology at Texas State Technical College in Fort Bend County.
"I'm so excited to finally be celebrating this milestone," said Kuta. "I'm excited to begin working and looking forward to a successful career in welding."
The Plantersville native walked across the stage Monday night at the Stafford Centre in Stafford, Texas as an honors graduate with a grade-point average of 3.75 and received two certificates and an associate degree from TSTC.
She joined close to 60 other graduates from TSTC in Fort Bend County who also earned certificates and associate degrees.
"We are so proud of our daughter," said Kuta's mother Sandra Kuta. "She has achieved so much at the young age of 19. She's goal-oriented, driven and determined. All of this has carried her to the top."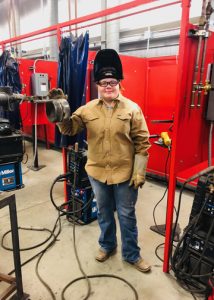 Kuta was exposed to the field of welding at an early age by her grandfather and uncle. She eventually began her own welding journey in high school.
She quickly rose to the top, beating a lot of the boys in her class and earning two "Top 10 Awards" in the high school's welding department.
"I really got into welding. I loved it and I was good at it," said Kuta. "I had a lot of support and a great mentor."
That mentor was Don Tullos, president of Texas Boiler Makers in Kuta's hometown. Kuta said he took her under his wing and always encouraged her to continue in the field no matter what the men said.
"There came a point where I was going to Don's shop every day to practice my welding," said Kuta. "Then one day he told me, 'You're really great at this. You could make this a career.' And it all changed for me."
Tullos was also the person who introduced Kuta to TSTC. She toured both the Waco and Fort Bend County campuses, and although further from home, TSTC in Fort Bend County was the perfect fit for her.
"It was a new campus with new labs and equipment. I couldn't wait to start," she said. "There were also still smaller class sizes so that meant more one-on-one time with instructors."
It was August 2017, when Kuta enrolled at TSTC, set up a trailer at a local RV park, where she stayed during the week; and sped up her program completion by testing out of Welding Technology introduction courses because of the welding experience she brought from high school.
Kuta was even inducted into the Phi Theta Kappa International Honor Society.
"TSTC was a really great experience for me. It was a great place to kick-off my welding career," she said. "And I was fortunate enough to have instructors who believed me, supported me and pushed me to be the best welder I could be."
TSTC Welding Instructor David Torres called Kuta a great welding student who is goal driven.
"Cheyenne is very dedicated and you can see that dedication in her welding abilities," said Torres. She's always lending a helping hand and coming in early and staying late to build her skills. She will go far in this industry; I know she'll make it because she has all of the skills. Her future is bright."
Kuta also said the best thing, for her, about graduating from TSTC, is that she is leaving debt free because of a collection of scholarships she received in high school, financial aid and non-traditional students scholarships from TSTC and other welding industry organizations.
Her advice for other students, "Always put yourself out there. Apply for scholarships, you just never know. This is a possibility for everyone," she said.
She also wants other girls and women to know that there is no need to feel intimidated about entering into a male-dominated career.
"Don't be scared. If you have a passion for something and you want to do it, do it," Kuta said.
"We can do the job just as good, if not better, than the men. Let's show them what we got."
So what's in Kuta's future?
She has already begun the job application process. She has interviewed with several oil field companies such as National Oilwell, Conroe and Baker Hughes.
"The oilfield is where the jobs are at and I can't wait to get started," she said.
Kuta also hopes to become a Certified Welding Inspector and a Certified Welding Instructor in the coming years.
For more information on Welding Technology, visit tstc.edu/programs/WeldingTechnology.
TSTC in West Texas Holds Fall 2018 Commencement
December 10, 2018
(ABILENE) – More than 140 graduates received certificates and associate degrees at Texas State Technical College's Fall 2018 Commencement held Monday, Dec. 10, at the Abilene Convention Center. Graduates from TSTC's four West Texas campuses in Abilene, Breckenridge, Brownwood and Sweetwater were recognized.
For Ronnie Pitts, an instructor and statewide department head in the Emergency Medical Services program at Abilene, watching his students achieve their educational goals does not get tiring. It was especially significant when one student bestowed upon him an honorary Phi Theta Kappa stole as a thank-you.
"This is the event that makes everything we do as instructors worthwhile," Pitts said. "Being able to watch our students succeed is what we live for. But, to be given this honor on top of it all is a special recognition that I greatly appreciate."
Students could be found thanking their instructors and excitedly talking about having accepted job offers.
Chris Russell, an Army veteran and member of Phi Theta Kappa, received an Associate of Applied Science degree in Environmental Technology Compliance. He started working full time last Monday at Clean Harbors.
"I worked in the oil field after the Army and saw that there was a way to make good money while staying clean and dry," Russell said. "So now I get to do what I enjoy and be comfortable."
During the commencement ceremony, Julian Alvarez III, the commissioner representing labor with the Texas Workforce Commission, encouraged students to be humble in their success and spend time with successful people.
"You will face careers, not jobs, the rest of your life," Alvarez said.
Alvarez is a first-generation college graduate. He said that, just like TSTC did for him when he was a student, the graduates have received the tools needed to think for themselves.
"You are ready to meet those challenges you will face in the workplace," Alvarez said.
Many of Monday's graduates were inspired and led to success by family members.
Mary Mares of Brownwood, who earned an Associate of Applied Science degree in Nursing from Sweetwater, said it was her son who inspired her to pursue her degree.
"My son was born with craniosynostosis, and it was his birth that motivated me to get this degree so I can help him and others to the best of my ability," Mares said.
Phillip Cruz of Sweetwater received an Associate of Applied Science degree in Wind Energy Technology. He said his 6-year-old daughter was his inspiration for pursuing his studies.
"It's a second career," Cruz said. "I used to be a police officer. The country is changing to green energy. I figured I would help the country move forward."
Cruz is considering job offers at energy companies in Michigan and Texas.
Earlier in the day, the Nursing programs held pinning ceremonies for graduates in Abilene and Sweetwater.
For more information, log on to tstc.edu.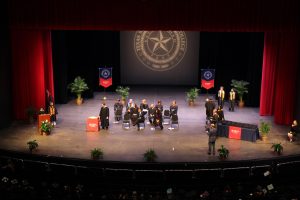 TSTC hosts an out-of-this-world experience for the community
December 10, 2018
(HARLINGEN) – Katlyn Nuncio mixed baking soda, salt and water to watch her rocket launch during "Journey to Mars," a first-of-its-kind event hosted by the Texas State Technical College Challenger Learning Center.
"It was so cool watching how the mixture reacted and how high my rocket went," said the 9-year-old fourth grader from Ed Downs Elementary School in San Benito. "The event was great. I love science and I hope to become an engineer when I grow up."
The half-day event, which was free and open to the public, was attended by more than 200 people.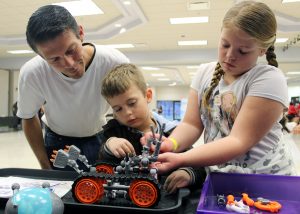 It was organized in partnership with NASA to celebrate the center's 5th and NASA's 6th anniversaries.
"We're are so excited with the response we received from the school districts and community," said Yvette Mendoza, TSTC College Readiness coordinator. "The number of families who attended this event surpassed all of our expectations. This event was a definite success."
The event included hands-on activities for all ages from space crafting and gravity affects to Mars rover building and Mars habitat creating.
Every booth was divided into phases, and resembled a space mission set up. Planetarium shows were also available throughout the morning.
For 11-year-old Aiden Barrera from San Benito, "Journey to Mars" was a great way to celebrate his birthday.
"I'm into science and engineering, but my favorite subject is math so this event was so much fun for me," said Barrera. "It was a great way to spend my birthday weekend."
The fifth grader said he had the most fun creating a home for a Mars extraterrestrial creature using paper plates, paper cups, paint and glue.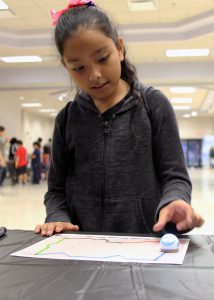 "This was truly a team effort. We really wanted this event to introduce children of all ages, from toddler to high school, to the science, technology, engineering and mathematic (STEM) fields," said Mendoza. "It's important to plant the seed at a young age, especially because STEM is a huge priority for our school districts and our state."
"Journey to Mars" was a result of a signed NASA Cooperative Agreement that was introduced to the TSTC Challenger Learning Center by the National Challenger Center.
Through this agreement, TSTC's center will receive upgraded hardware and software to add new missions to its lineup.
"Our goal with this is to be able to offer new, educational and exciting opportunities for the students who visit us," said Mendoza. "All that matters is that they are learning while having fun."
Under this cooperative, Mendoza said the TSTC Challenger Learning Center introduced its new mission "Expedition to Mars" this year and will introduce "Lunar Quest" in 2019 and "Operation Comet in 2020."
Mendoza also said the community can expect to see more free, community events that provide educational opportunities in the near future.
For more information on TSTC's Challenger Learning Center or to book a mission, call 956-364-4517.
TSTC online classes help local man pursue a career change
December 10, 2018
(HARLINGEN) – At a crossroads in his life, Robert Ahrens decided to enroll at Texas State Technical College, opting for an online program so he could continue supporting his family.
"With a family it's not all about me," said the 37-year-old. "I still need to make a decent paycheck, so online classes have been the most convenient for me."
The La Feria native is enrolled in Business Management Technology, one of four programs with degrees that are offered entirely online.
The other TSTC programs with online degree tracks are Digital Media Design, Architectural Design & Engineering Graphics and Health Information Technology. These are among the many other hybrid programs available, which offer lectures and labs both on campus and online.
"With these programs there really is no excuse for not going to school anymore," said Ahrens. "What matters is the discipline and hard work you're willing to put in. It's so flexible anyone can do it."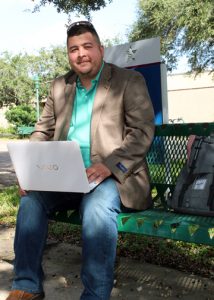 A retired police officer of nearly a decade, and now a full-time truck driver with Spirit Truck Lines in Pharr, Ahrens said he has exceeded his own expectations.
Ahrens, who expects to earn his associate degree in Summer 2020, boasts a 3.9 grade-point average, is on the dean's list and was inducted into Phi Theta Kappa Honor Society in 2016 for his high marks.
"I'm not going to lie, it's been a challenge," said Ahrens. "I'm traveling out in the middle of nowhere and finding internet isn't always easy, but I manage. It's possible."
Ahrens is also a recipient of the Lozano Long Promise Opportunity Scholarship, Shell National Merit Scholarship and Texas Science, Technology, Engineering and Mathematics (T-STEM) grant.
"Just because I'm in school doesn't mean the bills stop and I found myself in a bind," he said. "But TSTC has helped me fund my education. It has been a tremendous help and motivation to keep going."
The full-time worker and full-time student said he's only home 34 hours a week, the rest of his time is spent transporting goods across the country, finding hotspots or truck stops with internet. He also said even his laptop has seen better days, but he's not letting anything stop him.
"All the technology of today makes it easy to navigate TSTC's online programs, communicating with instructors and keeping in contact with my family," he said. "I know someday all this  sacrifice will be worth it."
TSTC Campus Lead for Business Management Technology Edna Claus said Ahrens has done exceptionally well despite the fact he is on the road most of the time and cannot depend on constant or reliable access to his courses.
"Robert has done well. His persistence is one that can be modeled by all of our students," she said.
Ahrens is registered and ready to begin his Spring 2019 semester.
"TSTC has made me a well-rounded student and I know whether I stay at Spirit or end up somewhere else I will find success," he said.
For more information about online programs at TSTC, visit tstc.edu/tstconline.